10 Remarkable Korean Restaurants in Davao City
Hungry and craving for Korean foods? Good news! You don't need to go to Korea. Korean restaurants are now in Davao City. They serve a variety of delicious and affordable Korean foods right before your eyes.
Korean restaurants are noted for the number of side dishes that go with steam-cooked short-grain rice. They are generally utilizing sesame oil, doenjang, soy sauce, salt, garlic, ginger, pepper chips, and gochujang. Kimchi is served regularly, now and again at each dinner.
Below are some remarkable Korean restaurants you can visit in Davao City.
This Korean restaurant serves new, and delicate first-rate imported meats ideal for the charcoal grill! Must-tries are there Aged Samgyupsal, USDA Certified imported Beef and marinated meats. Join in the best at Premier The Samgyupsal Davao. Come and visit Premier The Samyeopsal at G/F Eon Towers, J.P. Tree, Bajada, 8000 Davao City, Philippines.
Manna Korean Restaurant
Manna Korean restaurant is selling its notable kimchi. The flavor of Korea is back so don't leave behind a significant chance. You can come and visit Manna Korean Restaurant with your family and friends at Km.7 Lanang, 8000 Davao City, Philippines. Want to see you there.

Bulgogi Brothers Davao
Bulgogi Brothers Davao serves customary and exemplary Korean food like kimchi, grilled meats, Korean steaks, stews, noodles, rice dishes, and a lot more Korean strength. Each table is ready with its contained barbecue for that superb new Korean barbecue insight! What are you waiting for? Come and visit Bulgogi Brothers Davao at second Level, Fountain Court, SM Lanang Premier J.P. Tree Avenue, Brgy. San Antonio, Lanang, 8000 Davao City, Philippines.

Gui-Gui Grill
A Korean-propelled everything you can cook and eat grill and barbecue. Food is amazing and entirely reasonable ideal for loved ones. Hurry up! Come and visit Gui-Gui Grill at 8-A Mabini Commercial Complex, Mabini Street, 8000 Davao City, Philippines.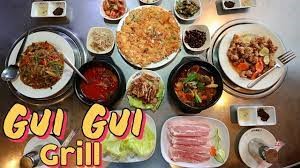 It is incredible to visit Na D Ri Korean Restaurant. Service at this restaurant is something one can call quick. It serves sweet and spicy chicken, snowing chicken, and spicy pork. They are generally tremendously wonderful. Come and visit Na D Ri Korean Restaurant at Damosa Gateway, Lanang, 8000 Davao City, Philippines.
Seoul Ga Korean Restaurant
Seoul Ga Korean Restaurant serves genuine Korean cooking ideal for takeout, conveyances, feasts, and reservation. Come and visit Seoul Ga Korean Restaurant situated at JP Laurel Avenue Exterior Victoria Plaza Compound, 8000 Davao City, Philippines.

Gangnam Davao Cafe & Restaurant
Gangnam Davao Cafe & Restaurant serves a completely reasonable cost for great Korean food here in Davao City. Its meat stew and bibimbap are incredible, incorporating their pastry with red bean (in squashed ice). Invite your family and friends to visit Gangnam Davao Cafe & Restaurant at Abreeza Mall, G/F, J.P. Shrub Ave, Poblacion District, Davao City, 8000 Philippines.

Itaewon Restaurant
Itaewon restaurant serves limitless chicken with every single Korean side and Ice tea at an entirely reasonable cost. Furthermore, it serves crude chicken and spots a barbecue before the customers cook. It's ideal for loved ones at any event. It is located at MacArthur Highway, 8000 Davao City, Philippines.

Davao Korea Town Restaurant
Davao Korea Town Restaurant is the first Korean Restaurant in Davao City. It serves traditionally inspired authentic Korean cuisine. Move now and visit Davao Korea Town Restaurant at NCCC Mall VP, J.P. Laurel Avenue, Bajada, 8000 Davao City, Philippines.

Tong Yang Plus
Tong Yang Plus is the Philippines' biggest grill and shabu-shabu chain. This Korean eatery is ideally suited for families, companions, and friends to encounter cooking styles from around the world. Come and visit Tong Yang Plus at Quimpo Boulevard cor. Tulip Drive Ecoland Subdivision, Matina 8000 Davao City.

Source: https://www.tripadvisor.com/Restaurants-g298459-c10661-Davao_City_Davao_del_Sur_Province_Mindanao.html