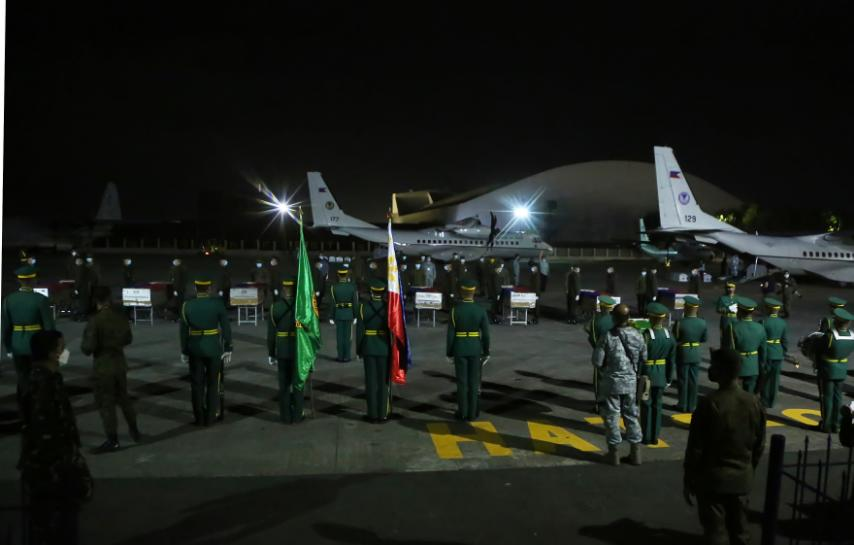 Arrival honors sa walo sa 11 ka fallen heroes nga killed in action sa nahitabong pag-atake sa Abu Sayyaf sa Sulu niadtong April 17, 2020.
Gisugat sa mga asawa ug ilang mga anak ang mga sundalong nagbuhis sa ilag kinabui samtang nagtuman sa ilang gipanumpaang serbisyo sa nasud.
Gipangunahan ni Armed Forces of the Philippines Chief of Staff General Felimon Santos Jr, Secretary of National Defense Delfin Lorenzana, ug Major Service Commanders ug Colonel Jesus Villamor Air Base kagahapon sa April 18, 2020.
Ang 11 nga namatay mao silang;
1. 2Lt Rogelio E Deligero – Brgy. Catorse de Agosto, Gandara, Samar
2. SSg Jayson P Gazzingan – San Rafael East, Sta Maria, Isabela
3. Cpl John Michael T Manodom – KM4, Asin Road, Baguio City
4. Cpl James John R Montinegro – Brgy Capintalan, Carranglan, Nueva Ecija
5. Cpl Rasul B Ao-as – Magsilay, Pasil, Kalinga
6. Cpl Ernesto L Bautista – Naguilan Sur, Ilagan City, Isabela
7. Cpl Jomar A Niñalga – Monamon Norte, Bauko, Mountain Province
8. Pfc Jomel N Pagulayan – Cataggaman Pardo, Tuguegarao City, Cagayan
9. Pfc Benson A Bongguic – Calaocan, Rizal, Kalinga
10. Pvt Jiydon T Usman – Brgy Limpongo, Datu Hoffer, Maguindanao
11. Pfc Premark P Vallecer – Kadilingan, Bukidnon
Photos by: TSg Randulf Obinque PAF/ PAOAFP