15 Best Food Supplements Available in the Philippine Market
By: Kims Cyra Rayel M. Moring
Searching for the best Food Supplement Philippines? The best way to protect ourselves from diseases, especially the Corona Virus Disease 2019 (COVID-19), is through social distancing, wearing of face mask/face shield, proper handwashing. However, taking food supplements and vitamins may also help to boost our immune system. There may be different kinds of brands in the local market. So which is the best in the local market?  
This article entitled 15 Best Food Supplements Available in the Philippine Market provides quality recommendations based on needs and benefits.
Here are 15 Best Food Supplement Philippines >> Always Available
MX3 Capsule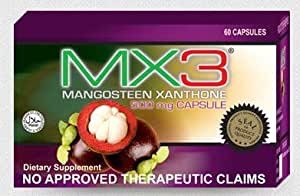 Description:
Mangostana Capsule, commonly known as MX3 Capsule, is a natural food supplement rich in xanthone- a natural chemical extracted from the pericarp of mangosteen fruit (Garcinia Mangostana L.) and has powerful antioxidant and anti-inflammatory properties that help boost the immune system.
Benefits:
Alpha, Beta, and Gamma Nutrients
Antioxidant, Antimicrobial, and Antitumor
Improves mood and relieves stress
Antioxidant
2. Centrum Adult Multivitamins
Description:
Centrum Adults is a daily multivitamin supplement packed with essential nutrients to respond to your body's needs and nourish your health. Its high-quality ingredients are backed by 40 years of nutritional science from the #1 multivitamin brand.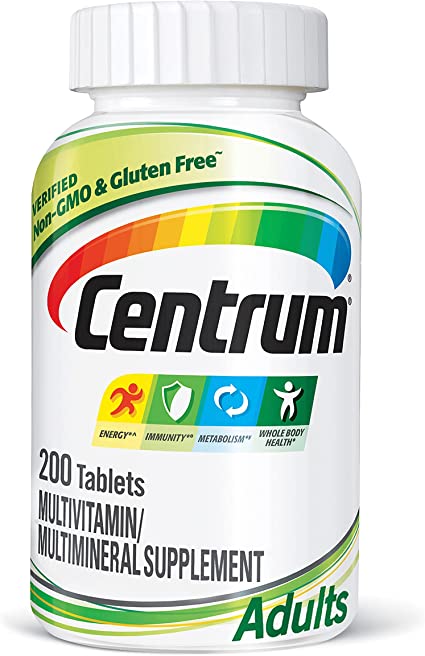 Benefits:
Formulated with 23 key micronutrients to help support daily energy levels, support normal immune function, and assist in the body's metabolism of macronutrients.
Comes in a smooth-coated tablet.
Verified non-GMO and gluten-free.
3. Conzace Multivitamins + Minerals
Description:
It is a multivitamin that contains A, C, E, and Zinc, which helps boost your immunity and gives you healthy skin and hair. That's because of all the molecules (Zinc, Vitamin A, C, and E). In addition, it has antioxidant properties that help protect the skin from sun damage, discoloration, and aging.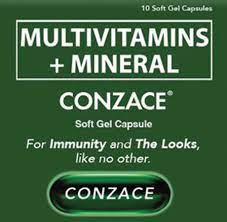 Benefits:
Boosts immune system.
Improves your mood.
Makes your hair and skin healthier.
Repairs wounds.
Helps you lose weight.
4. Enervon Tablet
Description:
It is a nutritional supplement with vitamin-B complex and vitamin C to help promote increased energy and enhance the immune system.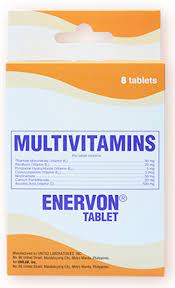 Benefits:
Provides synergistic benefits of B-vitamins (namely B1, B2, B6, B12) and Vitamin C to the body. Vitamins B1 and B2 help in the body's food-to-energy conversion process.
5. Kirkland Vitamin C
It is a high potency, nutritional supplement. It contains a citrus complex of bioflavonoids, which may assist in the body's absorption of Vitamin C, and rose hips, which are a natural source of Vitamin C.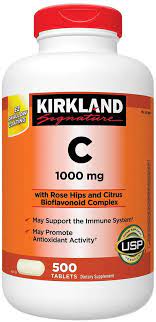 Benefits:
It can support many functions in the body. Vitamin C helps in the normal development and maintenance of bones, cartilage, teeth and gums. It is also an antioxidant for the maintenance of good health and helps in connective tissue formation and wound healing.
6. Fern-D
Description:
FERN-D is an affordable, premium quality Vitamin D (vitamin D3 or Cholecalciferol) supplement from I-FERN Corporation; sourced from one of the largest vitamin manufacturers in the world – DSM of Switzerland. This world-class quality product is available exclusively through I-FERN Independent Distributors worldwide. Take FERN-D, your DAILY DOSE OF SUNSHINE even without the sun.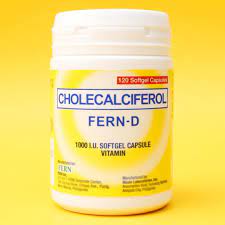 Benefits:
Vitamin D is essential in keeping our muscular, respiratory and cardiovascular systems in optimal shape. It is one of the key nutrients needed by the body to maximize the absorption of calcium essential in maintaining strong bones and teeth. Healthy levels of Vitamin D prevent bone loss caused by ageing.
7. Berocca Orange
Description:
It is a dissolvable flavored vitamin mineral supplement in the form of an effervescent tablet that is rich in key nutrients including Vitamins B3, B6, and B12 to support mental and physical energy† and Vitamin C and Zinc to support immune health.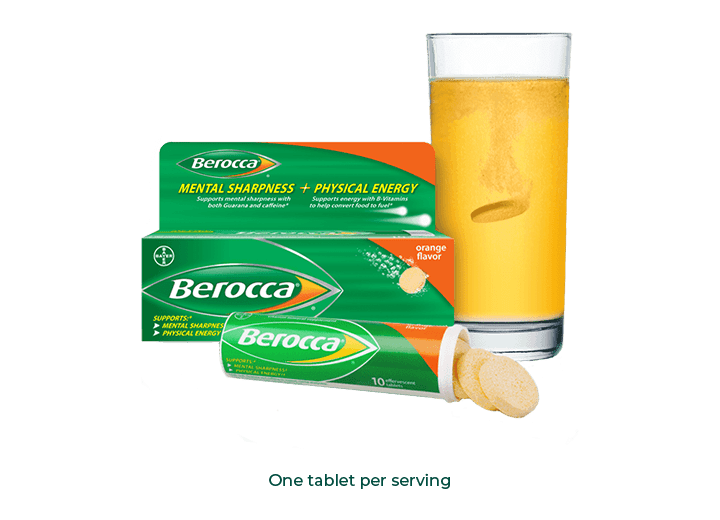 Benefits:
Helps support both mental and physical energy with B vitamins by helping to convert food to fuel. It also supports immune health with Vitamin C and Zinc. You can create an invigorating and enjoyable experience simply by adding it to a fresh glass or bottle of water.
8. Neurogen-E
Description:
It is a Vitamin B-complex (vitamins B1, B6 and B12) and Vitamin E product for the nerves that contains the optimum amount needed to help treat Vitamin B deficiency.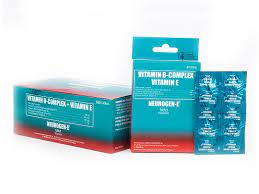 Benefits:
It helps to relieve muscle pain, loss of reflexes in the hands, knees, ankles, calves and feet and abnormal touch sensation (burning and pricking).
9. Myra-E
Description:
It is more than just your beauty vitamin. It is made out of a powerful antioxidant that helps protect cells from damage and increases resistance against sickness.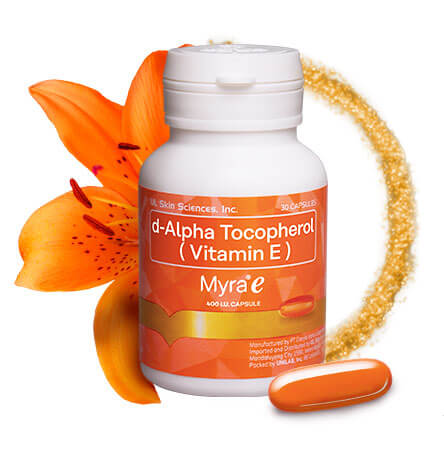 Benefits:
It helps fights free radicals that can cause skin damage. With daily use, get healthy skin from within.
10. Stresstabs
Description:
Multivitamins + Iron (Stresstabs) contains Vitamin C, E, and Iron. It also includes eight (8) B-complex Vitamins (B1, B2, B6, B12, Biotin, Nicotinamide, Pantothenic Acid, and Folic Acid) at safe levels. It provides vitamin and iron supplementation to help fight the effects of stress. Stresstabs is specifically formulated to help replenish nutrients lost due to stress.
Benefits:
This medication is a multivitamin product used to treat or prevent vitamin deficiency due to poor diet, certain illnesses, or during pregnancy. Vitamins are important building blocks of the body and help keep you in good health.
11. 4G Antioxidant
Description:
4G Antioxidant is a food supplement manufactured by Capsugel France(Cedex, France) for Herbs and Nature Corporation(Manila, Philippines).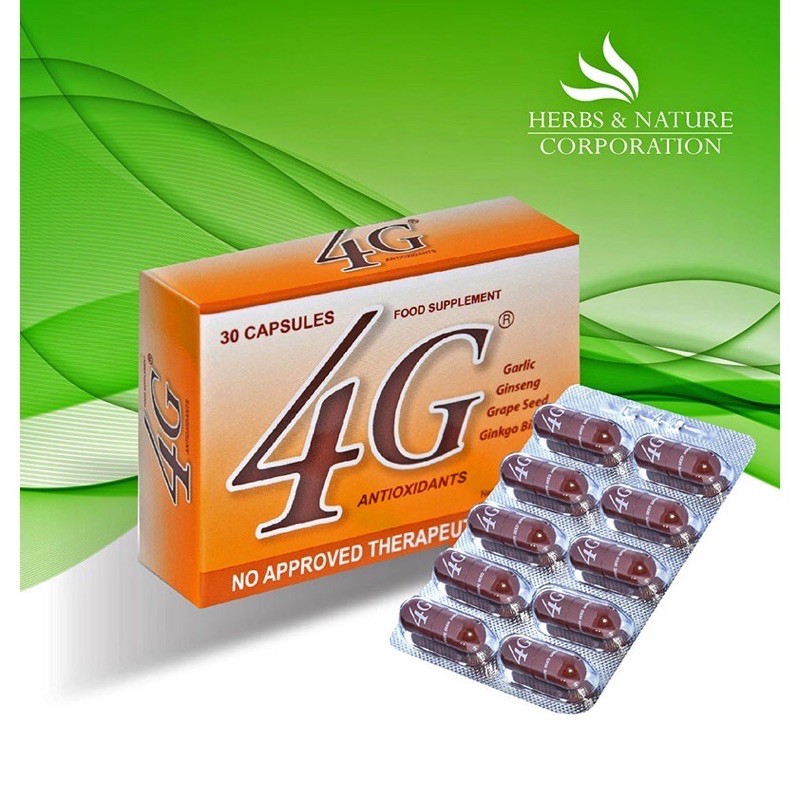 Benefits:
This Antioxidant claims to help nourish the cells, thus keeping the body youthful and healthy. Before you start any food supplement, please consult a certified health care provider
12. Liveraide Capsule
Description:
It is a Capsule manufactured by PHARMED. It is commonly used for the diagnosis or treatment of hepatic encephalopathy, gall bladder disorders, high blood sugar.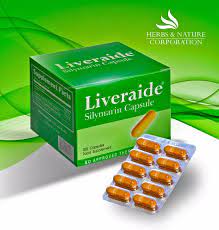 Benefits:
It promotes liver function and health. protect liver cells from damage. stimulate the growth of new liver cells. detoxify the liver.
13. Ampalaya Plus
Description:
It is an herbal supplement that can help you manage your High Blood Sugar level naturally, together with High Blood Pressure support and helps reduce inflammation.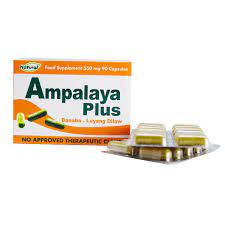 Benefits:
It helps to lower your body's blood sugar levels, assists in reducing hypertension and inflammation, and aids in strengthening the body and increasing its antioxidant capacity.
14. Yaki Herbal Capsule
Description:
Yaki herbal capsule contains spirulina, ampalaya, malunggay, sambong, and garlic.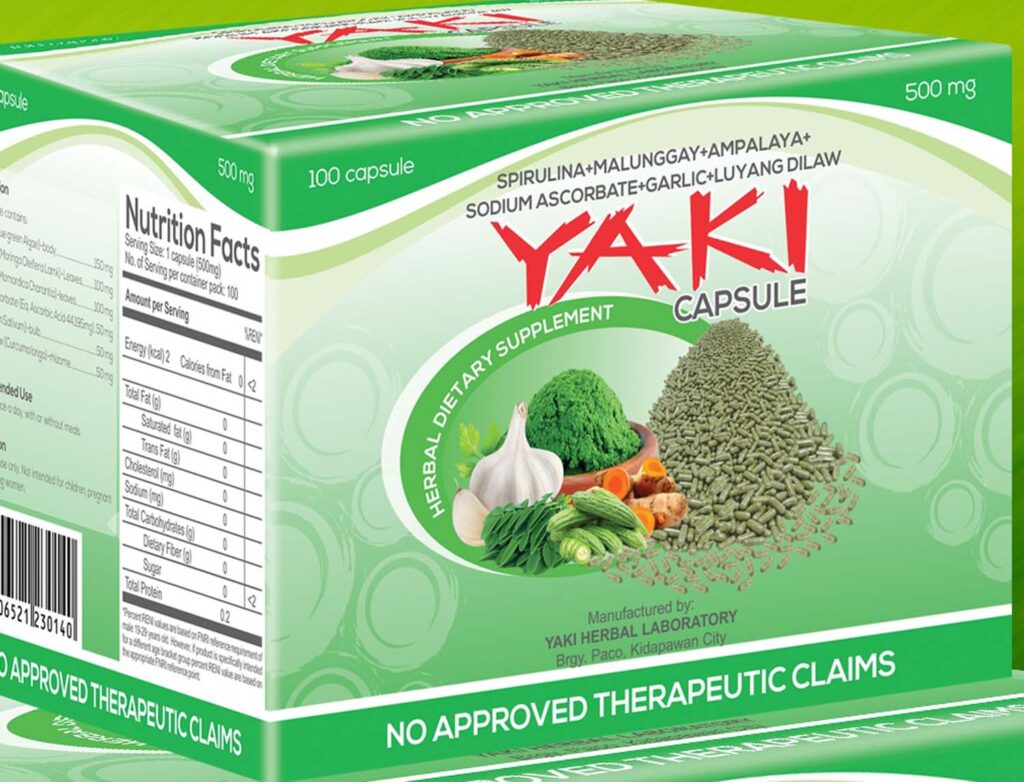 Benefits:
It is designed to promote cleansing of the organs and blood.
15. Moringa Capsule
Description:
Moringa is also taken by mouth to reduce swelling, as an antioxidant, to prevent spasms, increase sex drive (as an aphrodisiac), prevent pregnancy, boost the immune system, and increase breast milk production.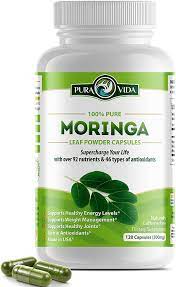 Benefits:
Some people use it as a nutritional supplement or tonic. It is also used as a "water pill" (diuretic)
—
Want to be featured here in Davao News Today? Contact is Now!