6 Best Ways to Achieve a Glowing Skin
By: Kims Cyra Rayel M. Moring
We all want to achieve radiant and healthy skin. There are so many over-the-counter products available on the market. A healthy lifestyle plays a vital role in making yourself glow every day.
Here are the 6 Best Ways to Achieve a Glowing Skin:
Eat Healthily
Healthy skin is the product of eating nutritious foods. You need to eat a well-balanced diet—reduce unhealthy, fatty, and oily foods such as sugar, saturated fat, and salt.
Let your skin glows from within by including these foods in your diet:
A. Carrots
Vitamin A-rich foods like carrots add healthy, brilliant skin. It helps you to fight against wrinkles, dead cells, and sunburns.
You must consume provitamin A through vegetables, fruits, and other plant-based products available in your local market. In this way, your body will eventually convert beta-carotene into vitamin A protecting your skin from the sun's harmful effects to your skin.
Provitamin A can also be found in broccoli, spinach, oranges, pumpkin, sweet potatoes, bell peppers, etc.
B. Avocados
This super fruit contains healthy fats that make your skin firm and stay moisturized.
Also, it has vitamin C and E – 2 crucial nutrients your body needs to achieve healthy skin and fight against the free radical formation.
Avocados are also rich in biotin, a B vitamin that some nutritionists believe can help promote healthy skin and hair. Biotin deficiency results in skin problems such as rashes, aches, psoriasis, dermatitis, and overall itchiness.
C. Egg Whites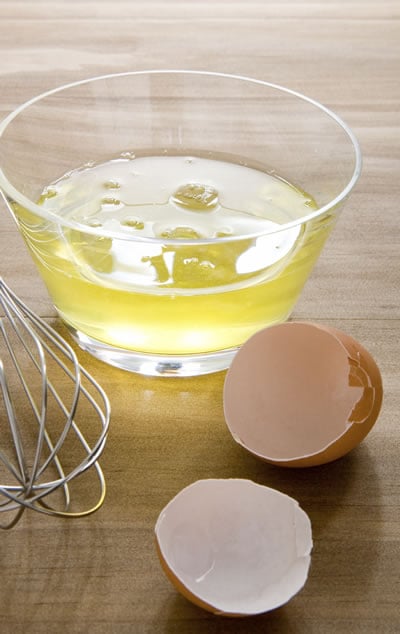 Another reason not to skip breakfast: "Besides giving your body a healthy protein that it deserves, egg whites are rich in lysine and proline (amino acids) and collagen. So adding egg whites to your diet supports your body's natural collagen production to help fight fine lines," says Simpson.
2. Stay Hydrated
You've heard it a million times. But, still, we want to remind you about the importance of drinking water. It forms the crux of your skin's natural barrier. When water is lost, your skin is prone to damage.
Drink 8-10 glasses of water every day. Your skin glows and is also soft and supple as it is hydrated.
3. Sound Sleep
A good night's sleep helps support mental health and allows the body to heal from damage, benefiting the skin.
Quality night sleep improves your mood, focus, and reflexes, helps you make sound decisions, and enhances your productivity. Researchers have proven that quality sleep lessens your susceptibility to disease and illness.
4. Flex your Muscles
Yoga, gym, Zumba, aerobics, whatever interests you, go for it. Exercise makes you sweat it out. It releases toxins from your body and skin. What follows is healthier and radiant skin. Make sure to cleanse your face or take a shower post-workout.
Stress is one of the root-caused of many skin concerns. It can lead to breakouts, fine lines, and wrinkles. Keep focus at bay by practicing meditation and mindfulness.
5. Avoid Smoking and Alcohol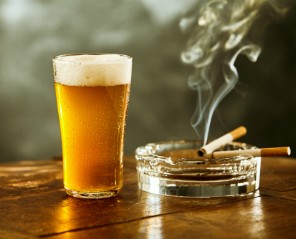 Smoking leads to several skin problems, including:
a. skin infections
b. premature aging, including the appearance of wrinkles
c. slow wound healing
d. some skin disorders, including psoriasis
6. Skin Care Routine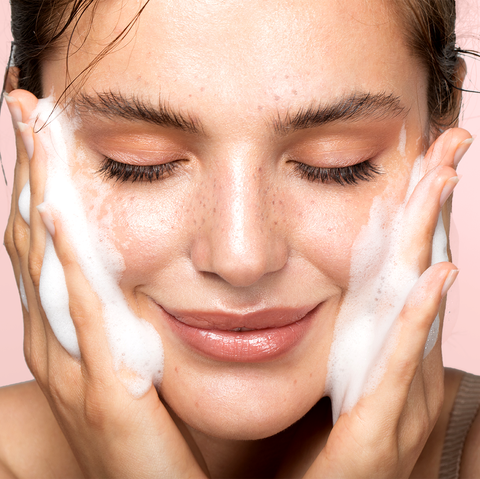 A. Address Skin Issues
Skin concerns like dark patches, acne, tan, fine lines, etc., are among the biggest hindrance to glowing skin. Address your skin concerns using medicines prescribed by your dermatologist.
B. Cleanse Twice A Day
It is the essential step to start in any skincare routine to achieve glowing skin. It helps ward off dirt, makeup residue, excess oil, and dead skin cells.
Cleanse every morning and night as a skincare ritual. Limit it to two times a day as over-cleansing can strip off essential oils from your skin and affect its natural pH.
C. Exfoliate Once A Week
Dead skin cells are found in the dermal layer. These move up to the surface and shed off. As we age, shedding these dead skin cells becomes a task for the skin. They do not clear on their own and require our intervention.
Exfoliation is a process that helps you get rid of dead skin cells. They come in chemical, physical, and enzymatic forms. Use a facial scrub to wash away the dead skin cells once a week.
D. Use Sunscreen
It helps to protect your skin from the harmful effects of sun rays.
Prolonged exposure to the sun results in dullness, dark patches, tanned skin, fine lines, wrinkles, and even cancer in some cases. UV rays can mess with your skin's smooth texture and suck the glow out of your skin.
E. Moisturize
Did you know that lack of moisturization can trigger extremely dry or excessively oily skin, which leads to many skin issues, including acne?
When you moisturize your skin, it helps repair your skin's barrier and prevents water loss. Besides, in this way, your skin slightly shines. It comes in different creams, lotions, gels, and serums suitable for different skin types.