Best SEO Training Course for Beginners in the Philippines
By: Kims Cyra Rayel M. Moring
Are you looking for the best Search Engine Optimization (SEO) training program in the Philippines?
Raket Pro, a Digital Marketing Academy, offers crash courses that enhance your skills and knowledge with the guidance of SEO experts.
Here are the things listed on what to expect as you start your SEO training journey:
A Closer-Look at Raket Pro's SEO training
New to SEO? Start HERE
The company based in Davao City, Philippines, helps newbies like you in digital marketing. All you need to do is invest your time and money and expect the best results.
The program starts at 2 pm and onwards on June 5, 2022. Three Sunday schedules follow it (June 12, 19, and 26) via zoom. After completing the course, you will receive an E-Certificate from Raket Pro.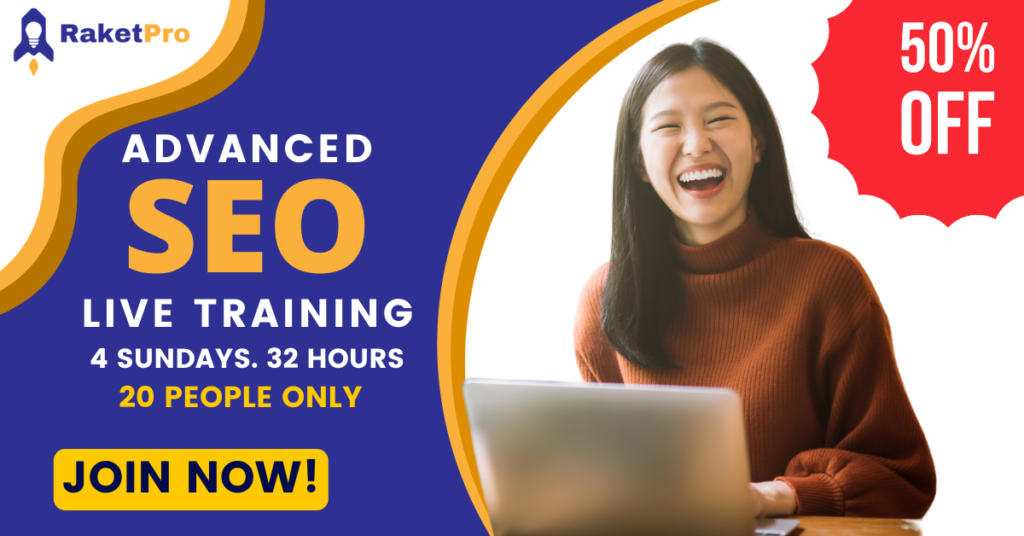 The program features the following:
Advanced SEO Training.
4 Sundays. 8 Hours/Day 32 Hours
Recorded Sessions. Unlimited Rewatches
Hands-On Lessons
One on One Consultation
Learning Objectives:
Here is the list of what you'll learn after completing the SEO training program:
Search Engine fundamentals
Digital Marketing Strategy
Competitive Competitors Research
Keyword Research
Technical SEO for Non-Coders
On-page SEO for Non-Coders
Off-page SEO – Scalable Link Building
Local SEO for Local Businesses
Content Marketing
Trends By Google
Google Search Console
Google Analytics
SEO KPIs and Reporting
The company also provides bonus knowledge and opportunities for the following:
Reading Data from Ahrefs
Career with SEO
How to deal with clients
If you find that English might become a barrier, you don't need to worry.
They also provide courses in the Tagalog/Filipino language as a communication medium.
Raket Pro's Advance SEO Tagalog Training Course deepens your understanding of the following: SEO Basics And Fundamentals; SEO Strategies And Tactics; Technical SEO Training; and SEO Tools And Metrics.
SEO Basics And Fundamental
You'll start your SEO training by understanding search engines and their role in the modern world.
Develop your knowledge in Search Marketing and how it can impact your brand and business.
SEO Strategies And Tactics
Next, begin your strategy by understanding the types of keyword search, motives, and how to do Keyword Research and Keyword Selection.
Raket Pro will teach you about SEO maturity, Search Marketing, creating a website, and crafting high-quality pages to hook your readers.
Technical SEO Training
Then, they'll teach you about search engines, their availability and visibility to the users, and how to address errors and redirects.
Also, you'll deepen your understanding of the value of speed, structure, contextual silos, crawlability, etc.
SEO Tools And Metrics
Digital marketing is all about metrics. The course will teach you how to use and integrate SEO Tools such as:
Google Search Console
Google Analytics
Google Keyword Planner
Google Tag Manager
Google Trends
Moz
SEMRush
AHRefs
Majestic
Spyfu
ScreamingFrog
Link Research Tools
Now, follow these three simple steps and begin your SEO training journey:
Fill up the application form.
Wait for the Acceptance Notification.
Pay the Registration Fee.
What are you waiting for? Enroll now and develop your skills with Raket Pro's SEO training program. The price starts at Php 6 999.00.
For more inquiries, visit their website https://raketpro.com/seo-training-philippines/