Lovely Treats: One of the delicious customized cakes in Davao City
We all desire personalized items nowadays. Why? We want to be unique. Delicious customized cakes in Davao City are a form of cake that goes above and beyond what a conventional cake has to offer. It indicates we're paying a premium for its one-of-a-kindness. Regardless of what is going on in the world right now, we continue to find ways to celebrate life, and cakes are always the star of any gathering.
Cakes and cake decorations have taken on a whole different meaning in Western culture. It has risen to prominence as a popular pastime. This easy and enjoyable pastime can be turned into a profitable business. LOVELY TREATS has taken up cake decorating as a hobby that involves a lot of fun, adoration, and appreciation, as well as a lot of money, and it is currently one of the Most Delicious Personalized Cakes in Davao City.
Sample of Lovely Treats customized cakes in Davao city
1.Plantita Cakes
Just wow! Who would have thought that we could eat this? Amazing job.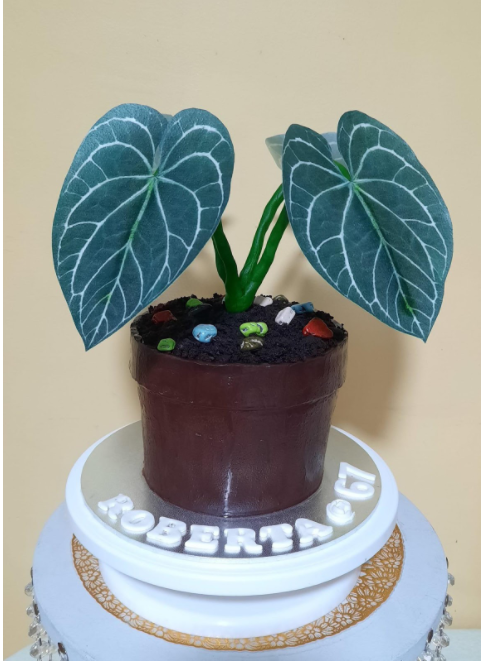 2. Wedding Customized Cakes
A successful kiss ensured a happy marriage, even if the cakes didn't fall down.
Interesting fact: Each deliciously personalized wedding cake has its unique significance. The bottom tier will be consumed during the ceremony, the middle tier will be distributed following the event, and the top tier will be kept. You owe me a thank you note now.
3. Christening customized cakes
A baby is a gift from heaven above and a precious little angel to cherish, and to love.
This delicious customized cake is perfect to celebrate this special day for this little one.
4. Birthday Customized Cakes
"Good cake isn't cheap, a cheap cake isn't good."
A party isn't complete without a cake. Do you ever find yourself wondering why something is the way it is? Yes, the majority of people enjoy cake (and we believe those who claim otherwise are lying). We're starting to feel peckish! The next time you're joyously celebrating a birthday with friends and family, think about what kind of cake you had in the past before the Lovely Treats Customized Cakes in Davao City existed. Lol!
Why Choose Lovely Treats?
Lovely Treats, one of the Delicious Customized Cakes in Davao City, has good quality and is crafted with affection, including client-requested specifics. There are dozens of eggs, pounds of butter, flour, icing, coloring, and fondant in it as well. The purpose of Lovely Treats is to create a one-of-a-kind, delectable, personalized cake. They aim to ensure that everyone is safe and secure.
Lovely Tips to Successfully Order a Delicious Customize Cake in Davao city
Recognize that your cake will take some time to prepare.
Expecting miracles to happen overnight is unrealistic. Any cake requires a lot of planning and effort between phases, but Lovely Treats' design, which is one of the most Delicious Customized Cakes in Davao City, is much more so because it includes unique elements. If you phone a baker the day before your daughter's birthday party and ask for a cake to feed 100 people, they will probably say no.
As much information as possible should be provided.
Simply stating that you "need a cake" will not assist the bakery in providing a quote if they do not know the size or due date. The number of guests the cake must serve, the date required, the flavors, colors, and other customizations can aid your baker in bringing your ideas to life and determining their availability from the start.
The final cost of your cakes will be influenced by many factors.
Expect to pay a premium for the time and expertise required to pull it off. You may have no idea how much a cake will cost if you've never purchased one before, but supermarket cakes should not be used as a guide.
Set a budget for your personalized cakes that is reasonable.
Most bakers will list their prices on their websites so you can see if they're in your price range, but the best way to find out is to ask them what they can do with your budget.
Ascertain that the personalized cakes are appropriately transported and stored.
Cakes are a bad passenger, so you can't just throw the box in the back seat and drive to the party. That is why LOVELY TREATS personally drives a temperature-controlled vehicle through Davao city's nasty and rocky streets like a granny (sorry for that).
About LOVELY TREATS Customized Cake
Shiela Mae Ayala fell in love with cake designs for years now that led her to establish Lovely Treats. On her Facebook page, she quoted: "the secret Ingredient is always love". She said goodbye to her corporate career and learned everything she could about cake. She is a resident of Indangan, Davao City, and lives with her family. While she bakes and customized cakes, she's also having quality time with her handsome son named Solomon. 
For your future orders please visit
LOVELY TREATS on Facebook
You might also like: