The Best Tourist Spots in Sta. Maria, Davao Occidental that recently become popular tourist destinations, the island's pristine condition and its white beaches.
Here are the Lists of the Best Tourist Spots in Sta. Maria Davao Occidental
Little Boracay
Little Boracay is one of the Occidental Davao tourist destinations that has only recently been found. But it is the island's pristine condition, not its white beaches, that distinguishes it.
It features grayish sands that meet the azure waves of the sea, unlike Boracay. The beach is lined with tropical beach trees, giving it a rustic appearance.
You may like: Top 8 tourists spots in Samal Island
Mt. Kiyawa
Mt Kiyawa is one of Davao Occidental's most popular trekking sites. Locals like taking day hikes here to get a 360-degree perspective of the municipality's cities and surroundings.
Malalag Bay and its mountain ranges may also be seen from the top. Mt Kiyawa reaches a height of almost 400 meters above sea level.
Sleeping Dinosaur
If Davao Oriental is famed for its sleeping dinosaur, Davao Occidental is recognized for its fiery creature-like mountain. It's known as the Sleeping Dragon.
The mountains resemble green dragons resting with their heads and bodies touching the sea from a certain vantage point. The beautiful beaches with azure blue waters add to the magnificent vista.
El'lemar beach house'38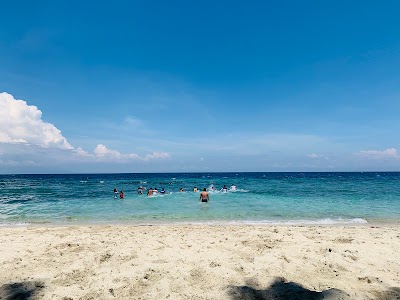 The ideal setting for your most treasured memories , because it is located outside of the city, it is a nice spot to unwind and relax.
Good for:
-Team building
-For lovers/couples
-Outing with the family
-Solo and with friends
and etc.
Colagsing Haven Beach Resort
A hidden white sand paradise in Colagsing Brgy. Tanglad, Santa Maria, Davao Occidental.
Rates:
Entrance Fee – 35 php / day
Open Cottage – 800 php / day
Airconditioned Room – 2,500 php / day
Non-Airconditioned Room – (Electric Fan, Good for 2 pax) – 800 php / day
Rest House – 5,000 php / day
Function Hall – 3500 php / day (coming soon)
Boat Rides should be booked ahead of time
Source: Daniels Eco travels